Best Online Guitar Lessons
Full Reviews and Free Trials
Get the most out of your guitar education!
Learning guitar ain't easy, but that doesn't mean you can't do it. All it takes is persistence, a willingness to let your fingers hurt a bit and some training. We can't help you with the pain (although we have some advice), but we can help you find the right program to get you started or to the next level. When searching for guitar lessons online, you have to keep three things in mind:
What styles do they teach?
What levels do they teach?
How much does it cost?
Don't go fretting 🙂 just yet (although that comes soon enough), and take a tour through our list of the best online guitar lesson sites.

Study hard, but remember it's just music, so enjoy! 
Top 5 Online Guitar Lesson Websites
I'm definitely not the best guitar player around. Frankly, I'm not a natural. That's why I've tried all kinds of lessons, from in-person to online. While I got a lot from in-person lessons, the reliability, flexibility and price point of online guitar lessons has kept me progressing happily. Here's my list of what I consider to be the top online guitar lessons sites out there.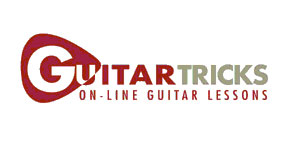 Price: $19.95/mo for unlimited access
Free Trial: Yes. 14-day free trial plus 24 free videos
Styles taught: Acoustic, Bluegrass, Blues, Classical, Country, Funk and Soul, Jazz, Metal, Rock, Rockabilly, Surf, and World
Overview –
Guitartricks.com is the self-proclaimed inventor of online guitar lessons which, according to them, occurred in 1998. They have 1.9 million users and growing, all signed up with their service to learn online guitar. And to be frank, I get why they are so popular.
First things first – yes! They do offer a free trial. The next great thing they offer is a massive song library. According to them, they offer at least two times as many songs as any of their competitors. The 700-song library includes music from such stars as The Beatles, The Rolling Stones, and Eagles. Also massive is their library of lessons.
Right now, they have 11,000 lessons, but new ones are added every week. Some review sites claim that Guitartricks.com is only good for beginners, but I have to disagree. There are lessons for all types, from beginner to those looking to perfect their technique or explore music theory. You can also focus on a particular style of guitar; they offer acoustic, bluegrass, blues, classical, country, funk and soul, jazz, metal, rock, rockabilly, surf, and the somewhat general category of "world" music.
And, the cherry on top of it all, Guitartricks.com won the Gold 2011 Player's Choice Award in the Acoustic Guitar category – woohoo!
Quick Hits –
They offer a free trial!
Customer Service is actually helpful.
They are the Rosetta Stone of online guitar lessons and claim that users report learning 50-100% faster through Guitartricks.com than other learning methods.
Track your personal progress through the lessons as you go.
This site is easy to access and navigate using your mobile phone.
They have a humungous song and a large, ever-growing lesson-library.
Good for both beginners and pros.
Lessons focusing on particular songs take you through the song note by note, focusing on tone and closing out with a "play-along" and full backing band.
They provide an online tuner and guitar term glossary
You can jump around through lesson categories such as "learning the fretboard" or "guitar chords."
Use the guitar toolbox to tune your guitar or use an online metronome.
Mash-up of Customer Reviews
I researched what users had to say and found their comments very positive.
A self-declared "senior," Vicki says that Guitartricks.com made her feel capable whereas in the past DVDs had left her feeling defeated. She said she loved how she could take lessons at her own pace.
Another Guitartricks.com user, Irambona from Nairobi, says after taking lessons he became one of the highest paid guitar players there!
Mark, a soldier, makes a very important observation: their customer service is excellent! What a relief!
One user, Olivier, did note a few ways that Guitartricks.com could improve; he suggested they add lessons to teach some more creative elements of guitar playing such as song writing.
Bottom Line
If you learn with GuitarTricks.com you, too, could become a paid guitar player in Nairobi! But seriously – this is a super, legit guitar lesson website built to coax beginners and intrigue even more experienced players.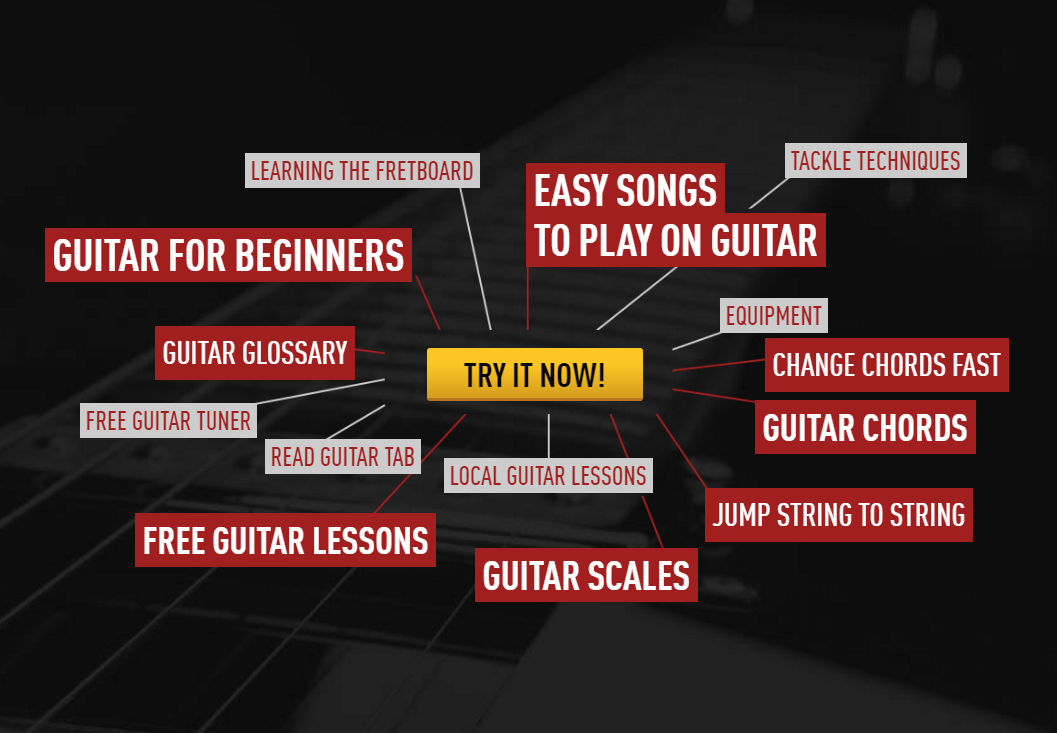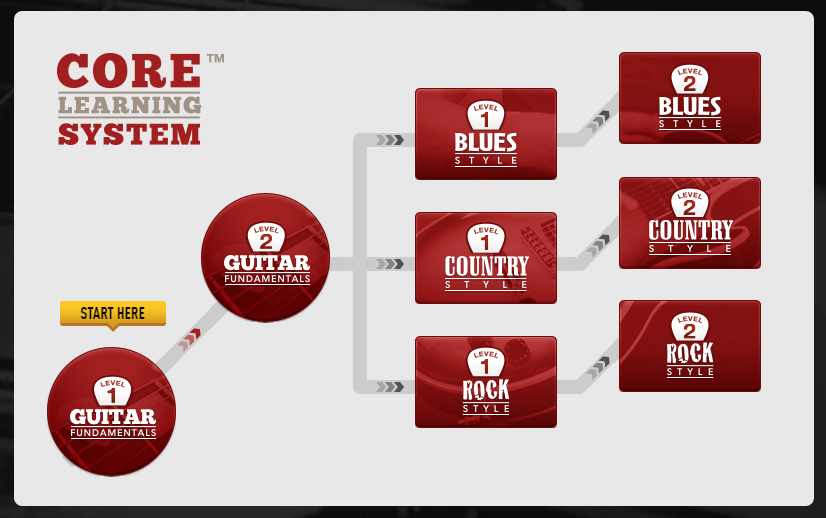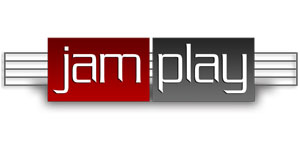 Price: $19.95/mo; $49.95 4x a year; $159.95/year
Free Trial: Yes. 7-day free trial
Styles taught: Blues, Fingerstyle, Metal, Hawaiian Slack Key, Bluegrass, Celtic, Classical, Country, Jazz, Surf, Funk, Flamenco, Folk, R&B and Soul, Reggae, Brazilian, Gospel, Pop, and Rock
Overview –
Jamplay.com is a high-tech online guitar lesson provider that creates a whole social world around the lessons it gives, if you're interested in that. With open mics and Facebook-type social networking capabilities, Jamplay.com is more of a community than some of the other lessons sites. At first this feature seemed potentially annoying to me, then I remembered how important it is for musicians and artists to commune, get help from each other, and even collaborate – maybe form a band! In the end, it's not so bad to be able to live chat or private message other musicians.
Lessons on Jamplay.com happen in three phases: beginner, genre, and song. In phase two of the lessons, Jamplay.com offers a ridiculously amazing range of guitar styles from Reggae to Flamenco, and even hosts two categories of Rock videos, one focusing solely on acoustic. The final phase, phase three, allows users to pick out which songs they want to play. A few of the songs are even taught by the original composer or band member. Whenever you are inspired, you can also skip-hop around the Lick & Riff Library; these lessons don't fall into any particular phase.
Everyday, Jamplay.com uploads new lessons which are produced in-house (either in Greeley, Colorado or Kent, Ohio) by professionals who digitally master the sound so that it's studio quality. The video image is also high-definition. With this HD quality, lessons still stream smoothly on all devices – rad!
Another uniqueness is Jamplay.com's slow motion feature. To better follow a sequence in the lesson, you can slo-mo any portion of the video. Or, you can loop a segment that you want to review over and over (gosh – I wish I could've done this to the professor of my college Astronomy lecture…!). Basically, the videos are high quality and incredibly interactive.
In the approachability category, Jamplay.com is a 10 out of 10. Not only do they have a full and expanding warehouse of videos prerecorded in their state of the art studios, but they also offer weekly live workshops and a daily real-time question and answer session with instructors.
In closing, Jamplay.com actually pays their artists what are essentially royalties. According to their website, each time you learn a guitar song off the site, the artist gets some cash. In this day and age, that's almost unheard of, so props to their charitability!
Quick Hits –
They offer a free trial!
High definition video quality is unmatched and accessible on all devices.
Loop or slow down portions of the lesson to go at your own speed.
Connect with other musicians on the site using live chat or private message.
Attend live online workshops or question and answer sessions.
Learn songs from many different genres of music.
View their extensive chord and scale libraries and organize a sheet of the chords you're learning.
Explore Jamplay.com's games for memorizing the fretboard, music notation, identifying notes, and recognizing pitch.
Track your progress and generate personal progress reports.
Mash-up of Customer Reviews –
I read over some customer reviews and here's what I found. Allan says the whole site is just "out of this world," which he means as a big compliment. He particularly likes what he calls the "cleanness" of the lessons and says he's addicted.
Robert, a beginner, says it took him a while to figure out which tabs work best for him and wishes there was a tutorial.
Lindsay and Florin really dig the live lessons, but Rory noted he couldn't cache the videos for offline use.
"Bill Clinton" felt overwhelmed when he tried to begin in phase 2, the genre lesson category. My suggestion, don't skip phase 1, you silly goose!
Overall, most users find that Jamplay.com is a "fantastic resource" for all levels of guitar player and Rose even says, "well worth the money."
Bottom Line
Jamplay.com provides members with professionally recorded lesson videos covering a wide range of musical genres as well as weekly live instruction workshops and an entire network of other musicians to connect with. Not only can you learn guitar at Jamplay.com – you can also find your muse!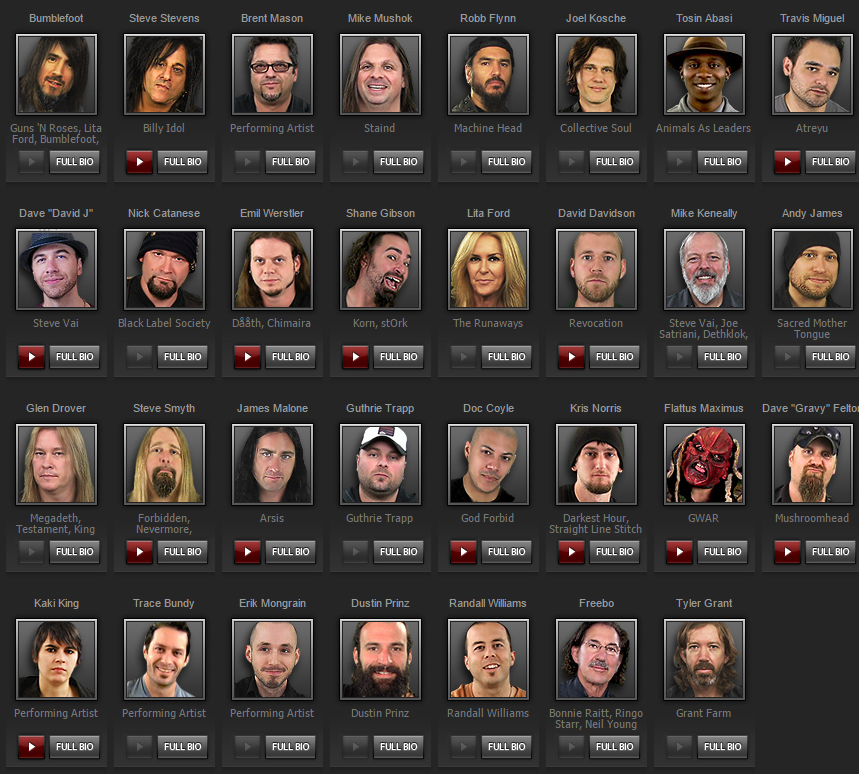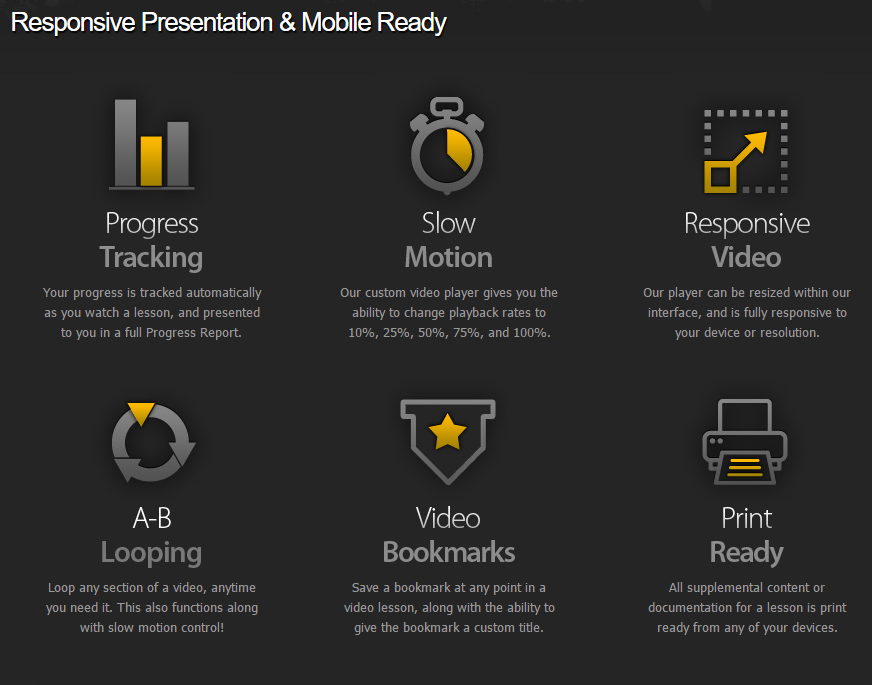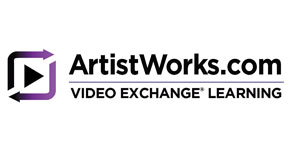 Price: $105 for 3 months ($25/mo); $179 for 6 months ($30/mo); $279 for 12 months ($23.25/mo)
Free Trial: Free Acoustic Guitar 101 course
Styles Taught – Rock, Flatpick, Blues, Electric Country, Jazz, Fingerstyle, Classical, Electric Bass, Dobro, and Acoustic
Good for All Learning Levels? – Yes!
Overview –
Artistworks.com's big thing is their Video Exchange system, which they say works even better than classroom learning. Here's the gist: you watch one of the videos made by their professional music teachers. Next, you can make your own video of you practicing what you just learned. Upload your video then a teacher watches it and responds to you with notes and encouragement.
If you are too shy or don't want to make a video of yourself, you can do what I did: learn by spying on other members' practice videos and teacher responses. All these videos exist in their Video Exchange Library. Not only did I find spying on other members practice videos fun, but it made me feel better about myself to watch them fumble on the guitar like I used to, haha.
When you sign up, you choose a guitar style. Each style of guitar is taught by one teacher – this keeps lessons consistent. When you choose your teacher and style, you are committing to them for the duration of your subscription. While you can't bounce around freely the way you might with another guitar lesson site, it's cool because you get to dive right in to your chosen style of guitar rather than swimming in beginner lessons for your whole life.
Overall, I liked getting to relax into a particular teacher's way of doing things. Before you buy in, you can browse the teacher's profile page, watch an introductory video, and read user reviews. Keith Wyatt, for example, teaches in the Blues Guitar style and currently plays for a band called The Blasters which combines punk with mountain music – so cool, seriously. Check Keith out here (this one's called "One Bad Stud"): https://www.youtube.com/watch?v=AkrjhiToYLo.
Quick Hits –
Try out their Music Theory class – it's on the house.
The video exchange program allows you to get feedback made just for you.
Watch other people learning and getting feedback in the Video Exchange Library.
You can download notation and backing tracks.
Use chats and forums to connect with other musicians on the site.
Professionally playing music instructors.
Dive right into a particular style of guitar.
Mash-up of Customer Reviews –
I read a bunch of customer reviews, and here are my favorites. Louis found the teachers inspirational, and Gwen found they had enough enthusiasm to make the world a better place.
Jim, who took Flat Picking Guitar, is bummed because he accidentally got charged twice. A woman named Dawn, representing Artistworks.com, responded publicly to his complaint and said she's fixing it!
Joe, who took Acoustic Guitar, was kind of bummed that sometimes the camera angles made it hard for him to see the finger placement, but Tom finds the lessons clear and is already seeing improvement.
What's the pattern in all these reviews? While users are feeling a little iffy about the customer service quality, the videos give them confidence with their instruments and the lesson quality is (says Bryan who's been playing for 50 years) "Outstanding"!
Bottom Line –
Artistworks.com is great for anybody who really thrives on personal feedback or wants to begin by learning a particular style of guitar rather than trudging through beginner lessons first.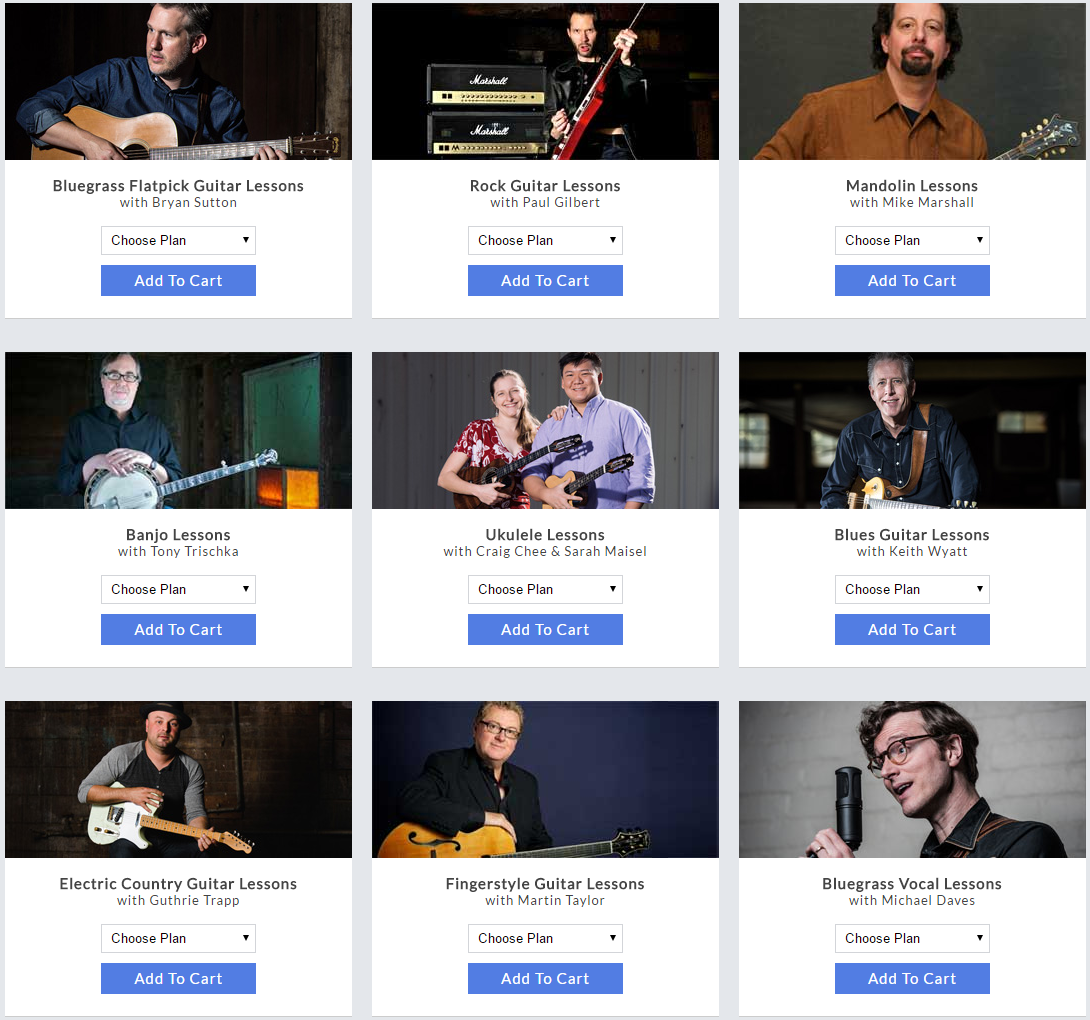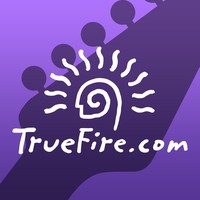 Price: $19.00 for disc + download + streaming
Free Trial: Yes! 30 Days Free All-Access Trial
Styles Taught: Blues, Rock, Fingerstyle, Country, Rhythm, Funk/R&B/Soul, Flamenco & World, Blues Rock, Jazz, Acoustic, and Americana
Good for All Learning Levels? – Yes!
Overview –
Truefire.com is into what they call "bite-sized chunk" lessons. This means they try to make the lessons quick and fun, and they don't harp on things like reading music or doing a bunch of lame exercises like my German piano teacher Kirsten used to make me do. Of course, if you are into theory or reading music, they do have videos on these topics, too.
Another cool thing about this site is that you can get personal instruction. They call this method the "classroom," but it's not really a classroom – it's more like a one-on-one video exchange. You tell the instructor where you're at, what your guitar goals are, then they set up lessons and assignments to help you progress along your chosen path. You use a recording tool to make your own practice videos which the instructor watches privately and responds to.
Truefire.com also lets users interact as a group. You can jam with other students, talk in discussion forums, and share videos. I sent someone a video of me playing the Mario Brothers theme song in a Mario costume, and they replied doing the song with spooky reverb in a Wario costume – it was the best.
And – this is important – Truefire.com has pretty much the best free trial out there. You get a whole month free, and it's the real deal aka you get a full access trial, not some tiny peep hole one.  So, I mean, why not? At least make one weird guitar video and exchange it with someone…
Quick Hits –
Try it out with an awesome month-long free access trial.
Take "accelerated" lessons based on your skill level.
Some of the music teachers have even won Grammy awards.
You can choose from over a hundred teachers.
Short and fun lessons that won't overwhelm you.
Track your progress.
Great video quality and loop and slo-mo capabilities.
There's an Applied Theory course available.
Download videos and access them offline.
Old dudes really dig this site, and they know best.
Mash-up of Customer Reviews-
Here's what people on the web have to say about Truefire.com. A lot of old dudes say they love Truefire.com's DVDs and, because of that, have started taking their online lessons. I found that kind of a surprising demographic, but it's awesome.
Someone called mkl13 loves this guitar lesson site and says the instructors are fantastic. Another user, dleuen, took a bunch of lessons over the winter, and called it a happy investment.
Flathead (awesome username!) had been at Truefire.com for 4+ years and digs how there's always new content on the site, saying there's enough material in there for a lifetime.
Having not found a single negative review, here's more praise from a user called GregoryL. He used the site to fill gaps in his guitar education. He digs the newer material, especially the jazz, and says, "Definitely worth it IMO."
Bottom Line –
Truefire.com is great for all levels, even for aficionados looking to fill in a few educational gaps. Also, it's great if you want to hop around from lesson to lesson and like the option of personalized lessons or socializing with other members.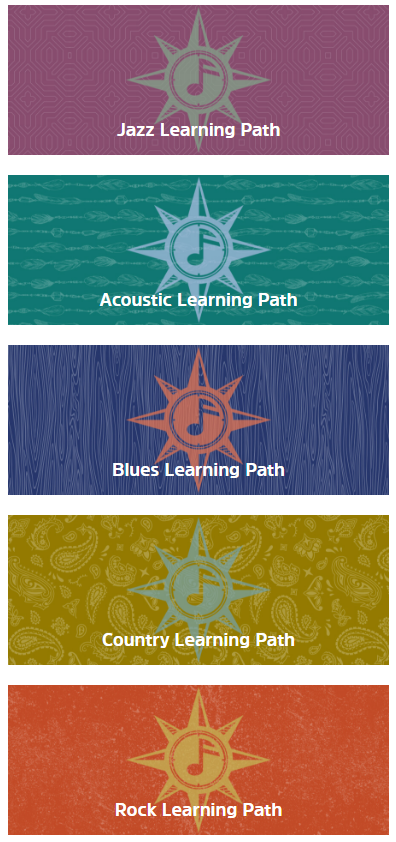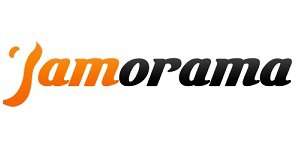 Price: $99.95 for Full Access
Free Trial: Free Basic Access
Styles Taught: Blues, Fingerstyle, Acoustic, and Speed Picking
Good for All Learning Levels? – Yes!
Overview –
The three main things about Jamorama.com is that a) it's lessons are organized like units in a college course b) it's also a social platform and c) it offers highly engaging video lessons. With it's so-called "Gamification" strategy, Jamorama.com hosts lessons that are supposed to pump you up rather than wear you out. They also give you super affirming pop-ups that tell you you're earning points just for learning. It sounds silly, but it really made me feel like I was making progress.
They call themselves "The Social Network" for students of the guitar. Through their website, you can collaborate and/or commiserate with other musicians. Everybody has a profile, photos, and a "wall" that updates with their most recent activity. This social aspect keeps you coming back to the site and helps you move through the lessons knowing you aren't alone (wait, do internet friends really count as real friends?).
Something unique about Jamorama.com is that it doesn't jam you up with a miasma of 10 million lesson videos. While you can jump around if you want, they offer a few courses at each level and each course is broken down into a few weeks worth of lesson videos. Each course contains downloadable PDF exercises for you to practice – call them "course materials." The organization reminds me of online college platforms like Blackboard or iLearn, if you know what I mean.
Also, you are always free to play around in the "Song Lesson" category. On a blue day, learn "I Still Haven't Found What I'm Looking For" by U2, and when you're feeling hot, try "I'm on Fire" by Bruce Springsteen. Also, you can use the site to hook up with a guitar tutor – this is one of a few new features they are trying out.
Quick Hits –
Use their discussion forums to trouble shoot with other members.
Message other users and create a personal profile of your learning achievements.
Super organized format makes it clear which lessons to take.
Their lessons are fun aka "Gamified."
Take song-specific lessons whenever you want.
Fundamental courses are organized like a college course and incredibly thorough.
Jump around within a course skipping over what you already know or don't care for.
Download course material to help you practice.
Mash-up of Customer Reviews –
I read some user reviews of Jamorama.com and here's what I found. Although Vince wishes there was more new material, most people seem to find Mark "fascinating" and "top shelf."
Emma, a pro, uses the site to improve her technique and Russell appreciates the "structured starting point."
Another user, Drnandakumar, is very zealous, and proclaims Jamorama.com is the right way, it is "guidance by God." Hmm…
While most users don't go as far as to say that Mark was anointed by God to teach guitar, the reviews tilt toward the positive. In closing, a user named Jeff is very happy. He says he signed up, has been playing for three weeks so far, and is just loving it.
Bottom Line –
This is a great site for someone looking for a well-structured college-style guitar course and also social networking capability. One thing to keep in mind though – Mark McKenzie makes all the content, so if you don't like Mark, this may not be the site for you. (But who doesn't love Mark?? Check out his wonderful man-curls… !)